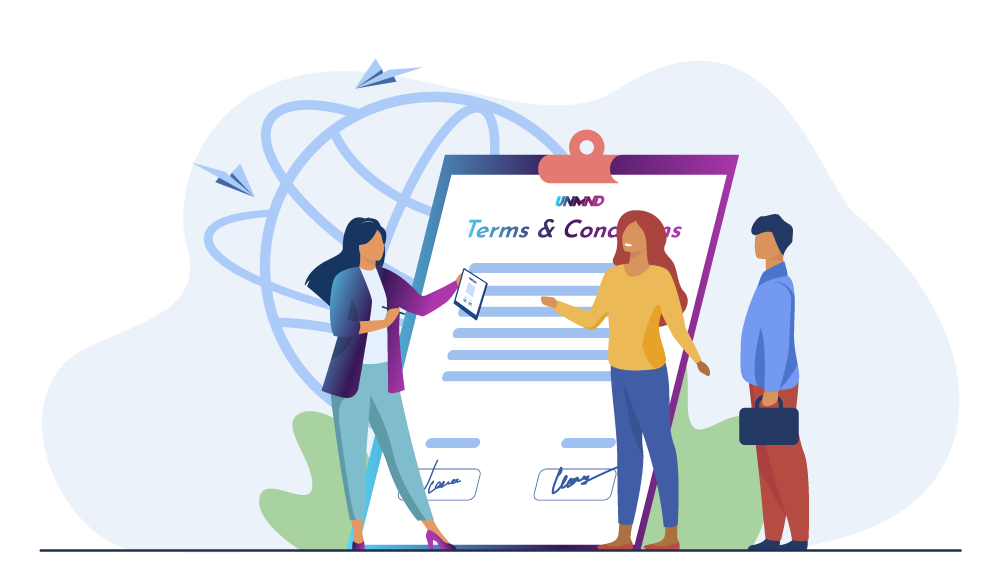 These terms and conditions of use are a legally binding agreement between you and Unimind Studios, concerning the terms on which you may access, browse and use the content found on www.unimindstudios.com. It governs use of text, information and visual content that we make available to you. It is advised that carefully read these Terms before continuing through this website. Browsing website indicates that you have read, understood and accepted our terms and conditions without limitation and that you will abide by all applicable rules, regulations and laws. Before using website please accept Terms and conditions.
Acceptance of Terms:
By accessing and using www.unimindstudios.com you agree to comply with and are bound by these terms and conditions. If you do not agree with any part of these terms and
Use of website:
This website is intended for informational purposes related to services such as digital marketing. You cannot use the website for any unlawful or unauthorized purpose.
Intellectual Property:
Content, logos, graphics and designs on the website are the intellectual property of Unimind Studios and protected by copyright laws. As a user you have no right to copy or distribute any content from the website without permission
Services:
Unimind Studios offers various digital marketing services subject to separate terms and conditions. Use of services is subject to those terms prescribed.
Limitation of liability:  
Unimind Studios isn't liable for any direct, indirect, special or consequential damages arising out of or in any way connected with use of website or services offered.
Third party websites:
This website may contain links to third-party websites which are provided for convenience only.  Unimind Studios has no control over these websites and therefore isn't responsible for the content and damages that may arise from their use.
Privacy: Unimind Studios collects and uses personal information in accordance with its Privacy Policy, which is available on the website.
Modifications to Terms and Use:
Unimind Studios reserves the right to modify or update terms and conditions at any time without any prior notice. Please review the terms periodically to ensure your continued compliance.
By using the website, you acknowledge that you have read, understood and agreed to these terms and conditions.

Sing up for Newsletter
and receive 40% discount on first project